Hey.
So today's post I will be talking about different Valentine's day television specials to get you in that romantic mood (oi oi). I love writing these sorts of posts, there's just something about it.
These are my top Valentine's TV specials, enjoy.
The Simpsons – I Love Lisa (Season 4, Episode 15)
I looove this episode. It's the first one that I thought about when I came up with this post idea. All I ever remember from this episode is Ralph's 'I Choo Choo Choose You' Valentines card.
Parks and Recreation – Galentine's Day (Season 2, Episode 16)
Of course this had to be on my list. Ladies celebrating ladies (yes gals!) I absolutely love this episode, Leslie Knope is my hero.
Orange Is The New Black – You Also Have A Pizza (Season 2, Episode 6)
It's such a good episode. I absolutely love how all the inmates are talking about what love means to them (Poussey melts my heart in this ahh).
Community -Early 21st Century Romanticism (Season 2, Episode 15)
I looove Community, their specials always make my lists. Such a crazy episode but it's so funny (as always).
Friends – The One With The Candy Hearts (Season 1, Episode 14)
Is there anything better than Chandler accidentally going on a blind date with Janice?! Monica, Phoebe and Rachel doing a boyfriend bonfire in the apartment and accidentally nearly setting the apartment on fire is just so funny.
New Girl – Valentine's Day (Season 1, Episode 13)
Schmidt an CeCe finally got together in this episode and that was enough for me to looove this episode (ahh).
Futurama – Love and Rocket (Season 4, Episode 4)
Black Mirror – San Junipero (Season 3, Episode 4)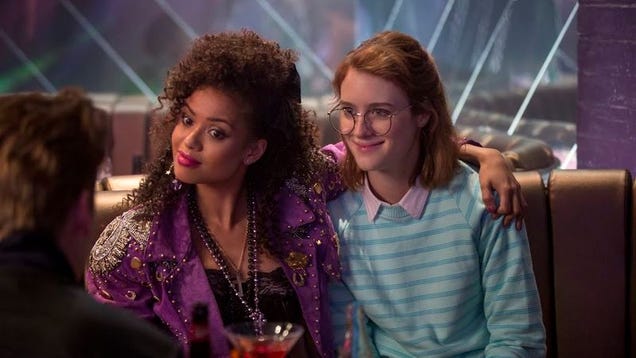 I know it's not technically a Valentine's special but I'm counting it because it's one of the only romantic/cutesy episodes with a happy ending. This is such a different sort of episode but it's so cute and not what I was expecting at all.
What are some of your favourite TV specials? Have you seen all of the ones on this list?
Thank you so much for stopping by.
Hope you enjoyed this post.
If you wanted to check out more Television specials you can read my Halloween one here or my Christmas one here.
You can email me here >>> thatfeelinginside2@gmail.com
Follow my instagram >>> thatfeelinginsideblog
Follow my twitter >>> @thatfeelinside