Hey, so it's that time of the month again for a Movie Magic post. I feel like I didn't get to watch all the films I wanted to this month as I don't get to the cinema as much as I used to.
You can check out last month's Movie Magic Monday post here.
Maze Runner : The Death Cure
I watched this one at the end of January and was super excited for this as I'd read all of the books and absolutely loved them. This was the final film in the Maze Runner trilogy, I did enjoy the first movie a lot more than the second but still felt like the books were better. Death cure as a film had a couple of exciting bits but overall it wasn't really that amazing. I'd say the film was fine, like wasn't anything special and I wasn't particularly in love with it but didn't massively dislike it.
Fifty Shades Freed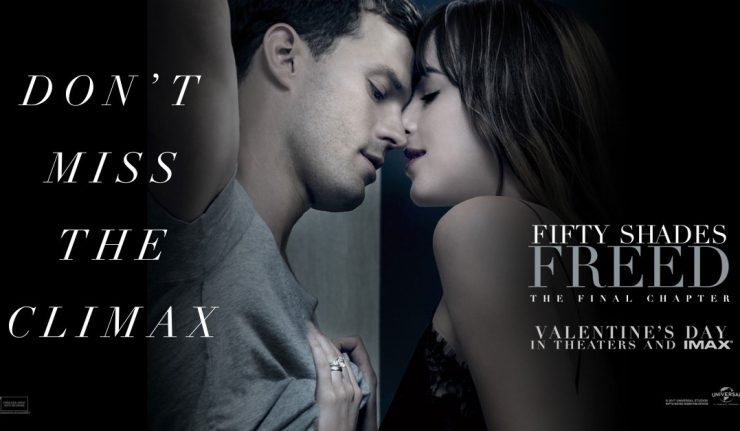 I knew before I watched this film I wasn't going to like it but seeing as I'd watched the other two in the cinema I felt like I had to see the final one. I think these movies are so awful (sorry if you're a fan). Just find them super boring and feel like not much really happens. I also don't understand why they're rated 18, I was expecting way more sex in it for an 18. Just to clarify I don't hate these movies because of the lack of sex – I feel like that made me sound like I'm just there to see someone get anally fisted or something weird, although that would probably be more interesting to see than Dakota Johnson acting like a wet lettuce for the whole film. Other than the boring story line and the crappy acting, I absolutely hate how it romanticises this kind of relationship, Christian literally wants to control every aspect of Anastasia's life and it just pisses me off – this is so not healthy or 'cute'. I just couldn't wait for Fifty Shades Freed to be over to be honest, me and my boyfriend were just laughing most of the way through at how bad it was. So yeah, I'd say give this a miss.
Black Panther
I was going to write an individual post on the film but didn't get around to it (may still do it as I feel like I have a lot to say about Black Panther). Absolutely amazing film, I couldn't believe how much I loved it. This film has everything and is definitely in my top 3 marvel films (may even be number 1 aye). The comedy in this film is brilliant and not over used, all of the actors are amazing and there's so many strong female characters in this. Literally there is a female army and they are bad ass as fuck. T'Challa's sister, Shuri is such an amazing character and so so smart, she's constantly winding T'Challa up which is super funny and she is basically a boss at science and technology. This film is brilliant and so different to other marvel movies. I absolutely can't wait to watch this again, the shots are stunning and the technology is just amazing (Princess Shuri's like Tony who?!?) If you haven't already seen this film then you should definitely go and watch it ASAP.
Greatest Showman Sing-A-Long
If you didn't already know I loved this film then you must not have read my post on it, you can read that here. I love this film so much and all the songs are brilliant. The sing a long version was so much better than I thought it'd be. Everyone was singing and getting so into the film, the atmosphere was amazing and actually made me feel emotional. I think the sing a long version is still playing in cinemas so definitely go and watch it if you get the chance.
Movies I'm looking forward to next month
I Tonya (I know it's already out but hoping I can see it before my next Movie Magic post)
Love, Simon
Sherlock Gnomes
Isle Of Dogs – This looks super cool but the animation also freaks me out a little, not sure why.
Peter Rabbit
Ready Player One
Have you seen any of these movies? Or are they any you want to watch? Would love to hear what you think.
You can email me here >>> thatfeelinginside2@gmail.com
Follow my instagram >>> thatfeelinginsideblog
Follow my twitter >>> @thatfeelinside