Today's post is about TV specials to get you in the Halloween spirit.
So many television shows have done great Halloween specials so I decided to dedicate this post to my favourite Halloween specials. It was really hard to narrow it down as my original list was super long but I got there in the end.
Community – Honestly I could have picked every special they had as they are all so great and definitely my favourite but I decided to go for 'Epidemiology' (Season 2, Episode 6). Basically, there's a bit of a 'Zombie' breakout that stems from the Dean buying what he thinks is cheap taco meat from the army. This episode is so great and there's so many brilliant costumes to admire.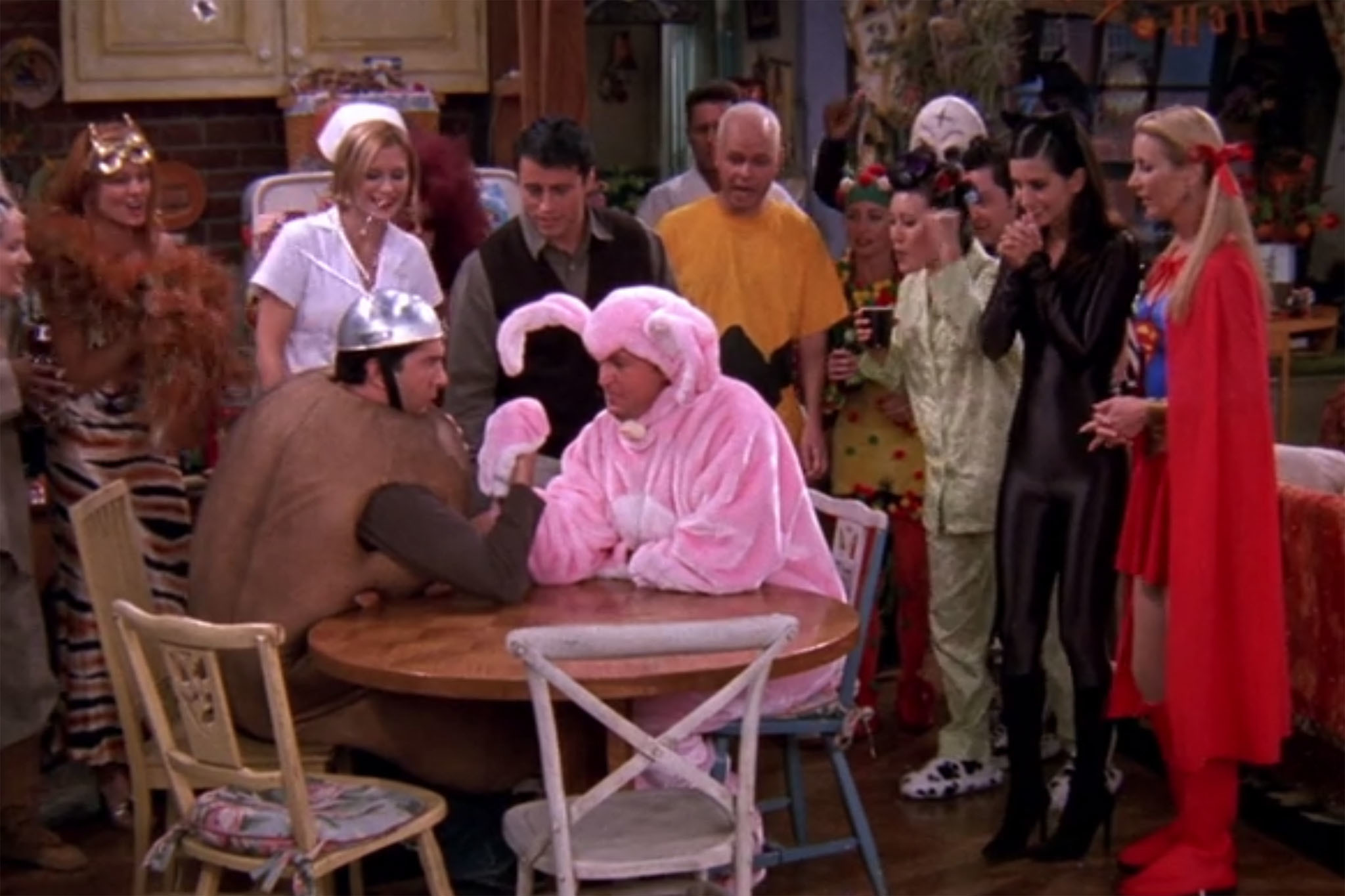 Friends – The One With The Halloween Party (Season 8, Episode 6). This episode is hilarious and is based around Monica and Chandler's Halloween party. Again there are some great costumes and so many laughs.
It's Always Sunny In Philadelphia – Who Got Dee Pregnant? (Season 6, Episode 7). Based around the mystery of who got Dee pregnant the episode follows the gang trying to piece together their drunken Halloween night.
How I Met Your Mother – Slutty Pumpkin (Season 1, Episode 6). Ted returns to the same party every year in the same costume to find the girl in the Slutty pumpkin costume.
Parks and Recreation – Greg Pikitis (Season 2, Episode 7). Leslie is on a mission to stop her 'nemesis' Greg Pikitis (a high schooler) from vandalising the town statue of Mayor Percy. Ann is throwing a Halloween party which gets livened up by Tom (Classic Parks and Rec).
Glee – (Season 2, Episode 5). Such a fabulous halloween episode. The costumes and the songs are amazing in this episode – absolutely love it.
The Simpsons – Treehouse of Horrors. This one is way too hard to pick just one episode, with so many Treehouse of Horrors out there. The Simpsons have done everything from The Shinning to evil twins.
Hope you enjoyed the list. There as so many that I had to narrow it down from my original list but I decided that these were my favourites.
What are your favourite Halloween specials? Would love to hear what you think and about your favourites.
You can email me here >>> thatfeelinginside2@gmail.com
Follow my instagram >>> thatfeelinginsideblog
Follow my twitter >>> @thatfeelinside